Poppy
"POPPY"
My beautiful little girl!
My journey in this breed began with this gorgeous Shih Tzu!
She became my soulmate, and constant companion
Poppy taught me so much about the breed, trimming, growing coat, making bows etc etc
She was the best little dog to learn on, would sit there while I tried my best to learn all about topknots, she never complained, some of my early hairstyles looked rather different lol, but in time I got better :)
Poppy took prime position at bedtime, her pozzie was above my head on the bed (she had her own pillow to lie on of course) I could never say no to this beautiful girl!
Love you Poppy
xxxxxx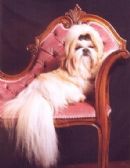 NZ Ch Nzinga Southern Belle
"Poppy"
View More Details