Chiko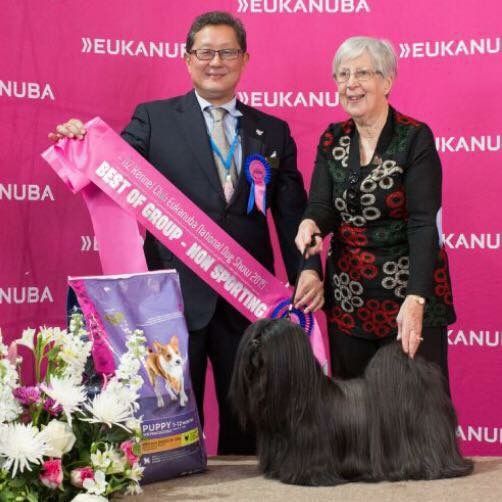 NZ & Aust Ch Paddington Daydream B'lievr
Very proud to have bred this gorgeous boy!
His time with my beautiful friend and mentor Judy Hooker (above) was truly incredible!
Judys love and care of Chiko was so evident in her presentation, which was second to none xx He enjoyed an incredible show career in NZ
BEST OF GROUP at the 2015 National Dog Show were among some of his fantastic wins!
I felt Chiko deserved a page dedicated to the interesting journey he has had to his forever home!
Chiko came to live with me when Judy became very ill, and tragically Judy lost her very brave battle not long after
As I was not in a position to continue showing Chiko, in September 2016 I gifted Chiko to the mother/daughter team
(Belinda Beves & Nina Estatheo, Zaland Lhasa Apsos NSW)
I had known Belinda for many years, she told me she had always wanted a black Lhasa, so I truly believed Chiko could continue to do well for the breed in Belinda's hands!
All went well with his transition to Australia, and he seemed to fit in well at Zaland
Chiko began his Aust show career in 2017
He gained his Australian Ch title, Chiko is the first Aust Ch I have bred, and I am as pleased as punch! Thankyou Belinda & Nina
for this I am very grateful xxxxx
In September 2017 I was both shocked and surprised to learn that Chiko had been sold to Loraine Raumer
(Kraddoell Lhasa Apsos, NSW)
The upside is I believe Judy would be smiling with that cheeky grin of hers from heaven above xxx
They say that every cloud has a silver lining, and Chiko has at last found his forever home!!!!
Chiko is loved to bits in the very capable hands of Loraine at Kradoell, I couldn't be happier!
Loraine constantly keeps me updated, and you never know, a Chiko baby may just find it's way to NZ in the near future
Much more to come :) as I will be adding posts and photos of his journey xx