NZ Ch Nzinga Southern Belle
"Poppy"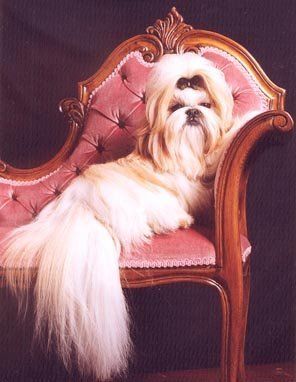 17.1.1997 ~ 25.12.2010
Sleep well my little soulmate, till we meet again...

Isnt she just beautiful, sitting on her chair!

'Poppy' was just delightful to show, and simply 'owned' the ring.
'Poppy' won 18 cc's while in Puppy class & in just 3 years of showing, she totalled up an amazing
"135 Challenge Certificates"
qualifying her for the

*** NZKC PLATINUM CERTIFICATE ***


'NZ Nationals' 1997, at just 8 months of age 'Poppy' won 'Res Best Bitch' & 'Res Best Of Breed' (38 Shih Tzu entries) & "BEST PUPPY OF GROUP"

At 1998 'NZ Nationals BCC & "BEST JUNIOR OF GROUP"

"BEST OF GROUP" winner at 9 months of age!

"3 x PUPPY IN SHOW ALLBREEDS"
along with multi "BEST OF GROUP" "AGE IN GROUP & "IN SHOW" awards!


From our careful breeding programme with 'Poppy' she remains New Zealands
"TOP BROOD BITCH"
producing
"MULTI BEST IN SHOW"
winning progeny, exclusively in our kennel name
including
"2 ALLBREEDS BEST IN SHOW WINNING Siblings"
Brother & Sister
BIS/MULTI RBIS NZ Ch Paddington Ragtime Man, Conan
&
MULTI BIS/MULTI RBIS NZ GRAND Ch Paddington Pokit Ful O Posies, Sophie
who is also NZ's latest "GRAND CHAMPION" (RIP Princess xx)


'Poppy' is the "Grandmother" of our
"3rd HOMEBRED BEST IN SHOW WINNER"
(BIS PIS PISS NZ CH Paddington Pick Pocket, Merlin)

'Poppy' is also the "Great Grand Mother" of
(PIS NZ Ch Paddington Pick A Pokit Or Two, Sassy)
"PUPPY IN SHOW" Winner!



Thank you Poppy...
for all the wonderful years we spent together
we miss you, & absolutely love you to bits!
xxxx





Last pic: Poppy with her daughter Holly & grandkids, all squashed into the tiny bed :) Poppy just adored puppies!
Pedigree

| | |
| --- | --- |
| Breed : Shih Tzu | Bred by : Nzinga Kennels |
| Sex : Bitch | Owned by : Cathy Wallace, Paddington |
| Date of Birth : 17-Jan-97 | Handled by : |
| Call Name : Poppy | Available for stud : N/A |

Sire : NZ Ch Kajushih Heavens Rogue
S: Aust Ch Erintoi Yan Kee Rogue
S: Aust Ch Erintoi Warlord Of Woodrose (Imp USA)
D: Erintoi Miss Maude
D: Kajushih Made N Heaven
S: Jushan Joshua
D: Kajushih Ima Fluzie
Dam : NZ Ch Akitzu Hayshee
S: NZ Ch Kino Double Trouble
S: Kajushih Revelry (Imp Aust)
D: NZ Ch Bea Winner Of Kino
D: NZ Ch Akitzu By Golly Miz Molly
S: Ancrownes Willy Nilee (Imp Aust)
D: Kino Fuzzy Wuzzy Wun