NEWS AT PADDINGTON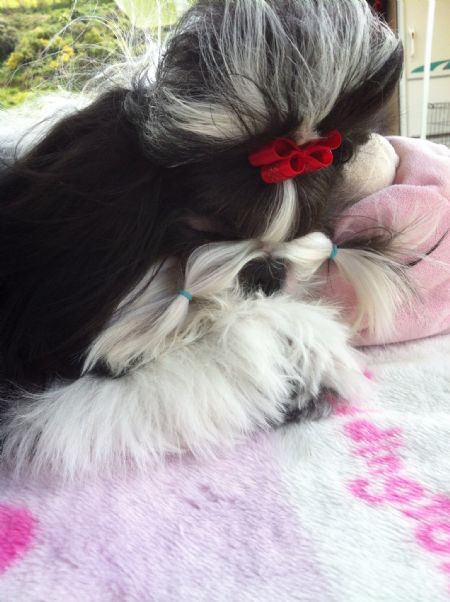 Welcome to our news page :)
I'm not one to gossip lol.... but did you know..........
June 2016 my beautiful friend and Mentor Judy Hooker (Manjuri) passed away after a battle with cancer
I miss her dreadfully, life can be so cruel. I had the honor of taking on her beloved boy Chiko, whom I bred (NZ Ch Paddington Daydream B'lievr.
I gifted Chiko into what I believed was the best Home, where he could be loved, shown, and carry on the lines I had created
Chiko was then sold, and he is now living his life at the top of NSW with some beautiful girls to keep him happy!!
Chiko's journey is very special to me, so I have created a page dedicated to him, and l just love getting the photos of him, he looks so happy!
About time for an update...
In October 2015 I bred my gorgeous homebred girl Jessie and she produced 5 puppies, & 2 remain here at Paddington.
Louie (Paddington Project Runway)
Gucci (Paddington Designer Maid)
Louie is soon to head off on his OE to Pastures green, & I have every confidence he will produce some lovely puppies
Bye bye beautiful boy xx
---------------------------------------------------------------------------
As I reflect on this past year, I am so grateful for all the wonderful love and support I have received from those around me. My house renovations are nearly finished, and I am back at work, doing what I love, grooming!!
Going forward on my life journey, I have learnt so much this year!
One thing is for sure, do not dwell on things you cannot change, do not keep looking back, you are not going that way, and what people think of you is none of your business!
A very Happy New Year to those nearest and dearest
xxxxxxxx
----------------------------------------------------------------------------------------------
2015
I have some exciting Judging appointments coming up in 2015, looking forward to getting back out judging!
--------------------------------------------------------------------------------------------------------------------
I have been busy over the past 3 months doing some renovations on my house
A new kitchen & bathroom & bedroom! Painted a new colour on the outside of the house, new decking, its looking pretty swish! I have been helping the Builder as a labourer, it is the best therapy in the world, I've enjoyed every minute of it. I now have a new house!
--------------------------------------------------------------------------------------------
October 2014
I welcome the arrival of Ziggy (Khyleini Ziggy Stardust)
A huge thankyou to his Breeder, my very good friend Jan Hellessey in Tasmania

July 2014, I sat & passed the practical part of my Utility exam
______________________________________________
June 2014
Zoe attended & competed in the "Supreme Puppy Contest"
A huge thankyou to my very dear friend Michelle, for showing Zoe for me.
She showed like a dream for Michelle, even trying out her new 'Meer Cat' moves... she has added 'begging' to her list of tricks lol.
Zoe went through to the 'Quarter Finals' knocked out by the eventual Supreme Puppy winner.
Zoe also won 'Best Visitor'
I was so proud of Zoe, and look forward to getting back out in the ring with her again! I really enjoyed the day, and give huge thanks to all my wonderful doggy friends, your overwhelming support means more than you will ever know x
-----------------------------------------------------
In April 2014, I lost my Husband & soulmate of nearly 25 years, John xx
It has been the hardest & saddest time of my life, & still is, & I wanted to extend a huge thankyou to the many caring people who have sent me such lovely tributes, and acknowledged the huge hole left in my life, with Johns passing.
My life will never be the same, but I have my gorgeous dogs, & a great support team around me. I am so grateful for all the wonderful people around me.
xoxoxoxoxoxoxox
--------------------------------------------------------------------------------------------------------------
March 2014
Zoe won her 3rd PUPPY IN SHOW at North Otago KA Allbreeds Ch Show! This win qualifies Zoe for the prestigous "Supreme Puppy Contest 2015"
-----------------------------------------------------------------------------------------------------------------------------------------
Jo & I made the journey up to Nelson KA shows in January, along with our girls Indy & Zoe. Camping... what a fabulous weekend we had! Zoe won "2 x BOB" and "2 x POG" Zoe also made the final of the Puppy Sweepstakes on Sunday, but we scratched for the main show, opting to make the journey home with dry dogs.. the weather was horrible, bucketing with rain, and wind.. great Shih Tzu weather....not.. Thanks to Jo for the great company, we really enjoyed our weekend away, and we are already planning our next show trip :)
--------------------------------------------------------------------------------------------------
December 2013
***** MERRY CHRISTMAS !!! *****
----------------------------------------------------------------------------------------------------------------------
8 Dec, at the final shows for the year
'Zoe' wins her 2nd
******* PUPPY IN SHOW *******
At just 8 mths of age
She can now be known as "MULTI PIS Khyleini Dolly Did It (Imp Aust)"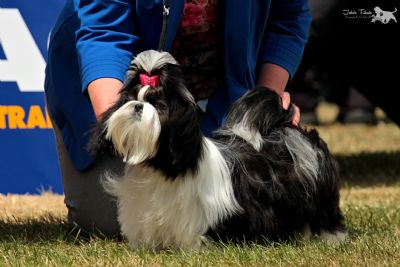 Group Judge was Mr G Carleton (NZ)
BIS Judge was Mr G Spagnola (Aust)
A huge thankyou to 'Zoes' Breeder Jan, we are so honored to have this little girl, she is the creation of your years of hard work in this gorgeous breed xxx
We are so proud of our little 'Meercat' !!!
-------------------------------------------------------------------------------
7 Dec
RBCC & RBOB for 'Zoe'
'Zoe' was also awarded "2nd PLACE " in the Allbreeds Puppy Sweepstakes at the Canterbury Junior Kennel Assn show! from an entry of 43!
Judge Mrs C Long (NZ)
-------------------------------------------------------------------------------------------
2 Dec
HAPPY BIRTHDAY to the most wonderful friend and mentor, Judy Hooker!
Love you lots always xxxxx
_________________________________________
Southern Ladies KA back to back Allbreeds Ch Shows, 30 Nov, & 1 Dec
Zoe wins BOB x 2
*** PUPPY OF GROUP X 2 ***
From just 5 weekends of shows, Zoe is the current Breed Leader of the NZ Rising Star (Shih Tzu) DOL Points score 2013!
______________________________________________________________
Southland KA 2 & 3 Nov 2013
Zoe wins Best of Breed &
*** PUPPY OF GROUP ***
And our little Lhasa Patti
(NZ Ch Manjuri Girl Of My Dreams) wins 2 x ***INTERMEDIATE OF GROUP ***
____________________________________________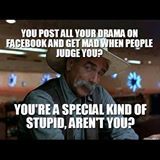 _____________________________________________
Waimakariri Kennel Society 26 & 27 October
Sat: Zoe won ** Puppy of Group ** & ** 2nd Place in the Puppy Sweepstakes **
Sun: Zoe won ** Puppy Of Group **
With this being a special anniversary weekend... it was so lovely to catch up with Jo & her gorgeous Indy, who won Best of Breed both days &
** NZ Bred Of Group ** on Sunday
Congratulations Girls!
________________________
South Canterbury Kennel Society
On Saturday 12 October, our newest addition, Zoe, at just 6.5 months old, won RBCC, Res Of Breed, beating her Kennel mate, Jessie
Sunday, Zoe BCC, Best Of Breed, pulled out in the final 6 for Best Of Group, going on to win
*** PUPPY OF GROUP ***
&
*** BEST PUPPY IN SHOW ***
This was Zoe's first weekend in the Puppy class! This win qualifies Zoe for the prestigious South Island Supreme Puppy Contest 2014!
She also went through to the finals of the Puppy Sweepstakes, from a huge entry!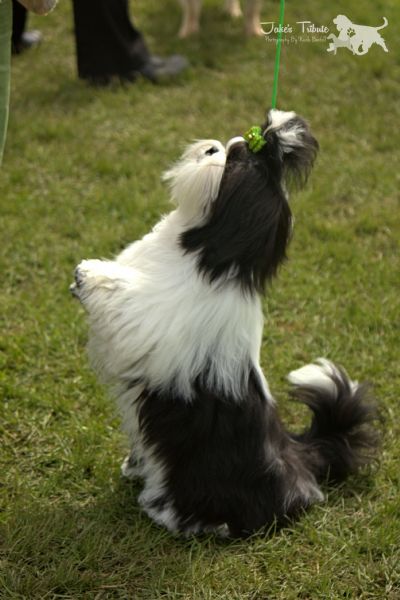 Above: Zoe waiting to go in General Specials, doing her 'Meercat' impression lol
_________________________________________________
6th October
Happy 10th Birthday to my darling Marcy!!!
_____________________________________________________
August 24 & 25 we attended 3 Allbreeds shows in one weekend in Dunedin, taking home..
(Jessie) 3 x BOB, 3 x NZ Bred Of Group, 1 x NZ BRED IN SHOW!!
(Zoe) 3 x Baby Puppy Of Group, 1 x BABY PUPPY IN SHOW!!
______________________
Otago Kennel Assn, July 13
Jessie wins ** BEST OF GROUP **
Zoe wins *** BABY PUPPY OF GROUP ***
_________________
4th July
HAPPY 4th BIRTHDAY to Basil, Jessie, Ace, Baxter, Gemma and Lucius!!
________________________
3 July
Introducing: "Khyleini Dolly Did It (Imp Aust) "
We welcome young young Zoe to our family. Thankyou so much to her Breeder Jan Hellessey (Tasmania) for sending this gorgeous little bundle to us! Zoe is the first dog we have had the pleasure of importing :) She came out of the travel cage with her tail wagging, it never stops!Jan, we hope to do you proud x
Above is a pic of 'Zoe' at 8 weeks! She is just adorable, so balanced, a very promising baby!!!
__________________________________________
South Otago Kennel Assn, May 2013
Jessie wins back to back *** BEST OF GROUPS *** along with
2 x ** NZ BRED OF GROUP! **
______________________________
Mackenzie Highland Show, 1st April 2013
Tilly, will now be known as NZ Ch Paddington Pants On Fire. At her first show in the Junior class, she won the final Challenge point for her NZ Title! Topping it off with
"JUNIOR OF GROUP!"
And Tillys Sire, Basil, at his first outing for over 9 months, takes
*** BEST OF GROUP *** & OPEN OF GROUP! Way To Go Basil!!!
__________________________________
9 March 2013
We give huge congratulations Joanne Townsend and her gorgeous Homebred girl 'Indy' on winning
****** RES BEST IN SHOW! *****
At North Otago Kennel Assn Allbreeds show!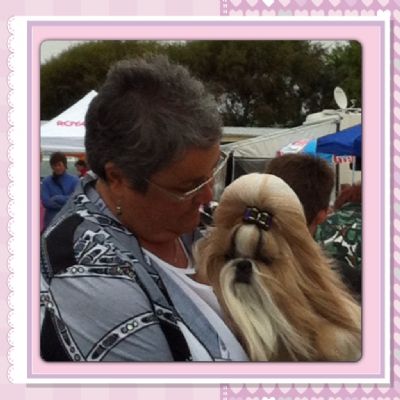 Jo (Shihghan Shih Tzu) and her lovely Homebred girl 'Indy' (BISS RBIS NZ Ch Shihghan Moment In Time From Celerity) waiting to be judged in the BIS lineup!
'Indy' is the daughter of our homebred Basil, and we are so proud to be associated with both Jo and Indy, who has enjoyed many impressive wins to date! Well done Jo and Indy!!
__________________________________
North Otago Kennel Assn, 9 March 2013
'Patti' the gorgeous little Lhasa we have been showing for our friends Judy & Eddie Hooker (Manjuri Lhasa Apsos) gained the final challenge certificate to enable her to become a
** NZ CHAMPION! **
Patti will now be known as 'NZ CH Manjuri Girl Of My Dreams' Congratulations to Judy & Eddie, and thankyou for allowing us the priviledge of campaigning her for you, it has been a pleasure xxx
Patti will now reside with us permanently at Paddington, a huge thankyou to our dear friends and mentors, Judy & Eddie x
_____________________________
3 Feb 2013
NZ Ch Paddington Dealers Choice
Ace
Huge congratulations to Vicky and Gary Hose on gaining the final points for their boy's
*** NZ Ch Title! ***
under Breed Specialist Ted Pickering (Aust) Ace is the litter brother to Jessie & Basil, they send big licks!
You have both worked very hard, and as his Breeder, I am very proud xxx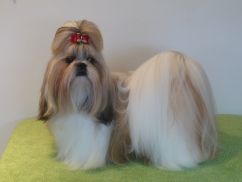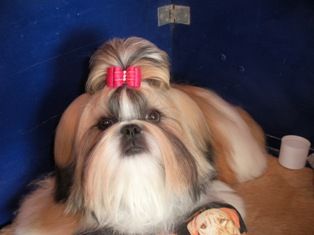 ___________________________________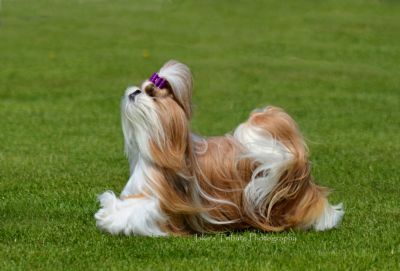 Nelson show, January 2013
What a great start to the year!
Jessie wins
NEW ZEALAND BRED IN SHOW!
under world reknown Breed Sprecialist Hans Almgren (Sweden) He made the comment to me that he thought she was so pretty and feminine!
Litter Brother Basil won Res Of Breed to Jessie!
_____________________________
December 2012
Just for the record...
In NO WAY SHAPE or FORM did I KNOWINGLY take on the ownership of any 'stolen' dog! If I knew then what I know now, I wouldn't have touched it with a bargepole! With the discovery of an email sent to me in 2003!!! (a big thank you to a fellow Shih Tzu exhibitor for resending it to me :) I am now able to piece together some of the puzzle from back then!! How could I possibly be involved in the (quote) 'murky past' (unquote) as I didn't even know the people concerned in 2003!!!!
My dealings with the said dog were COMPLETELY GENUINE and ABOVE BOARD on my part!
I have received multiple emails over the years accusing me of puppy farming from this said 'stolen' dog????? of being the receiver of 'stolen goods'??? apparently I have no morals or ethics... ??? I have also learned that I'm not the only one who has been affected by this!!!!!!
My honesty in this sport is ABSOLUTELY paramount to me.... What have I learnt from this experience....do not believe everything I'm told, and to stop being so gullible! Have I copped some flack.... well um yes... quite a bit of flack actually...
This only relates to a select few people in the dog fraternity... Most people reading this will have no idea what I'm talking about, and I apologise for that..... it's unfortunate that I felt it necessary to put this on my website...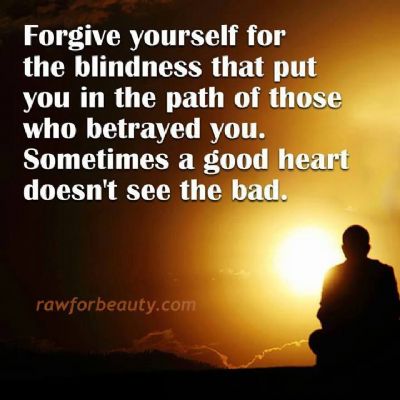 How true is this!
________________________
October 2012
Labour weekend 2012 saw us head up to Auckland to exhibit at the shows over three days. It was really good to show with much bigger numbers in our breed, so was very proud of our girls!
It was great to catch up with my best friend and Mentor Judy Hooker x, and also see many North Island doggy friends :) A few South Islanders (those lovely frenchie girls to name a few, who also made the journey for the weekend :)
I didn't expect to have my eyes opened...You know that old saying, SEEING IS BELIEVING.... well all I can say is... wow..... did I walk away... absolutely.. best decision I ever made... Any regrets? Well just one.. Just wish I had woken up sooner....Seeing the ongoing saga from the walking wounded on Facebook, do nothing but help me to see the deception even more clearly!
----------------------------------------
The first show for the weekend was on the Saturday (Non SP & Utility Specialty) Jo & her gorgeous Homebred Shih Tzu 'Indy' won
*** INTERMEDIATE IN SHOW ***
under Breed Specialist Wendy Paquette!
That evening, I had the privilege of attending and supporting Jo & 'Indy' at the Top Dog Contest (Only Dogs who have won BIS are eligible to enter this very prestigious contest) It turned out to be a fabulous night, 'Indy' showed like a dream for Jo! Although unplaced, 'Indy' was certainly a worthy representative, well done and huge congratulations Jo & 'Indy! To have qualified for this contest is just smashing!
The next day (Sunday) saw us back at the Kennel Centre for the Allbreeds Show. Under World renowned Breed Specialist Wendy Paquette (Canada) who awarded 'Jessie'
**** BEST NZ BRED IN SHOW ****
Very proud of my gorgeous girl! Wendy had some lovely things to say about her!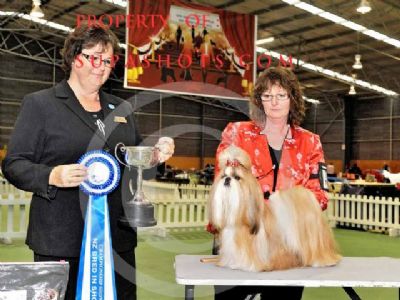 _____________________________________
In September we made the journey to attend the National Dog Show in Wellington. Ours were the only Shih Tzu from the South Island to attend Nationals week
At the first show, The Asian Breeds Specialty Show, under Judge Brian Harris, Jessie won
**** Res BEST IN SHOW ***
&
** BEST NZ BRED IN SHOW **
& her Kennel mate Tilly won
RBCC RBOB POB
From a large entry!
At the NZ National Dog Show Jessie won
BEST OF BREED
Down in the South Island we don't have the higher numbers, so making the journey North showed we can be consistently competitive amongst the higher breed numbers! Very proud of my girls, and a huge thankyou to Michelle for showing Jessie at the Nationals for me!